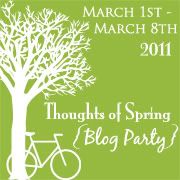 How would people describe your personality? (If they could only use ONE word.) Are they right?
A snob, but I don't think I am, I am just very shy!
What celebrity/celebrities would create a "Star-Struck" feeling if you saw them in real life?
I don't know...
Who is your favorite blogger? Why?
Ashle

y

from

Make It and Love It

, she has some WONDERFUL ideas!
What is your comfort food/drink?
Pretzels, Twizzlers, and Dr Pepper
Be brave – tell us something very random and weird about yourself.
I am very very very embarrassed that I am had to resort to dieting to lose baby weight.
Do you have a strong desire to do something you've never done? What is it?
Convince Zarah to stop nursing at night :)
Movies: Action, Drama, Romantic Comedy, Documentary, Comedy? What are your favorite genres?
All the Above
Books: Fiction, Non-Fiction, Romance, Biographies, True Stories, Self-Help, Devotional/Study? What are your favorite types of reading material?
I am not a big reader, but I like most kinds of Book on tape.
Music: Funk, Rock, Country, Jazz, Classical, Film Score, Blues, Classic Rock, Crooner, Alternative, Heavy Metal, Techno? What are your favorite types?
Country, and Classic Rock
If you inherited a million dollars, what is the first thing you would do with your money?
Buy a stackable washer and Drier, Matching car-seats for Ryley and Zarah, And a toddler Bunkbed!
Name one weakness of yours (confession is good for the soul).
I get overwhelmed easily.
If you could live anywhere at all (and take all your loved ones with you), where would you go?
Virginia Beach VA
Strange Talent? Can you juggle basketballs, put your legs behind your head or perform some other strange feat?
None, just strange
What's something you consider yourself to be good at? (Don't worry, it's not bragging, it's acknowledging a God given gift).
When you leave a social gathering, do you wish: You would have talked more or You would have talked less?
Talked More
If money wasn't a factor, what stores would you shop in?
Ikea, Joann Fabric, Michaels....
What is your greatest fear or strange phobia?
I am always worried about what people think of me.
What is your greatest accomplishment?
Still waiting for that one :)
What are your favorite animals?
I don't know
Are you a hopeless romantic?
NO!